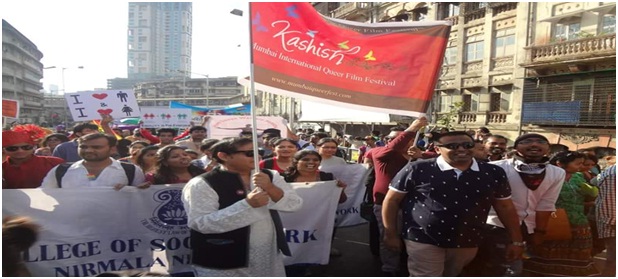 LGBTIQ Mumbai Pride March – 2017
'Queer' stands for all LGBTIQ (Lesbian, Gay, Bisexual, Transgender, and Intersex & Queer) individuals. This is a sexual minority group not widely accepted by part of the society that recognizes only two genders which is male and female. They consider only heterosexual relationships are valid. The queer community in India has been fighting a prolonged battle on the legal front for getting their constitutional rights and the social front for gaining acceptance, equal rights and dignity in society.
On January 28, 2017 Mumbai will witness its 9th annual LGBTIQ pride parade, which will be attended by thousands of people from different parts of India and rest of the world. The march will be attended by the persons identifying as gay, lesbian, transgender, bisexual, Intersex or queer. But apart from this it will also witness a gathering of many with heterosexual orientation to support LGBTIQ rights. It includes student groups from various institutes such as Nirmala Niketan, TISS, IIT (Mumbai) and many more. Individuals from different walks of life will also take part in the pride march, including families of LGBTIQ, NGO workers and even commercial sex workers.
The Mumbai Pride Parade, usually organised in the beginning of the year. It has attracted a lot of support since its inception, and the 2017 event will continue this tradition. From 2011, 'Queer Azaadi, Mumbai' began conducting a month full of events in different parts of Mumbai. It organises activities such as plays, movie screenings, flash mobs, street performances, Queer mela and finally it concludes with the Pride March.
Queer Azaadi Mumbai (QAM) is a collective of organizations and individuals who have voluntarily come together to strengthen the voice of the queer community in the country. It aims at empowering the community and having its presence acknowledged within all strata of the society. Mumbai Pride is an expression, a voice, a celebration and a platform to ask for equal rights for LGBTIQ individuals in India.
Last year, on an event day, star cast of Hindi film 'Aligarh' – which is based on the death of a gay professor after being kicked out of Aligarh Muslim University – was also present. Lead actor Manoj Bajpai spoke to the audience and supported the cause. Many people including Aligarh screenwriter Apurva Asrani came out as gay for the first time during the pride March speech and it was really amazing!
The various slogans used during the pride march such as "Kaunsa law hai sabse battar? Teenso satattar Teenso satattar," and "Taro maro same chay, Prem chay prem chay" ripped through the air.
On December 11, 2013, The Supreme Court had overturned a 2009 Delhi High Court judgement about decriminalising same-sex intercourse, thus re-instituting the legal penalty applicable under Section 377. But on February 2, 2016, during a hearing of the curative petition submitted by the Naz Foundation and others against the 2013 verdict, the apex court decided to submit the matter to a five-judge bench for consideration, thus bringing some hope to the LGBTIQ community. Everyone has a right to enjoy his or her fundamental rights irrespective of anything. We need huge support and strong efforts to help our Judiciary make a decision that ensures equality to all individuals of the country irrespective of their sexual identity or orientation.
Please be part of the Pride march to support LGBTQI community!!!!
Author: Shaileshkumar Bhutka